Why I Love Journeying With Wedding Couples!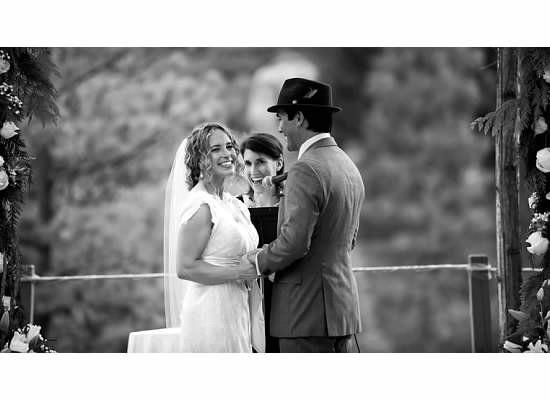 I look forward to working with you and your partner to creating a service reflective of the two of YOU – your values and passions.
Getting to know each of you more deeply and creating a ceremony that speaks to your ideals is a core part of my wedding process. I meet 7-10 times with couples in order to create this personal relationship. Conversations explore everything from how each of your similarities and differences strengthen your union, to financial decision making, crafting the wording for your ketubah (wedding contract), personal growth dreams, navigating conflict, commitment to social justice, and how you envision celebrating holidays together.
Committed to your JOYOUS partnership, I offer tools to rock the socks off marriage!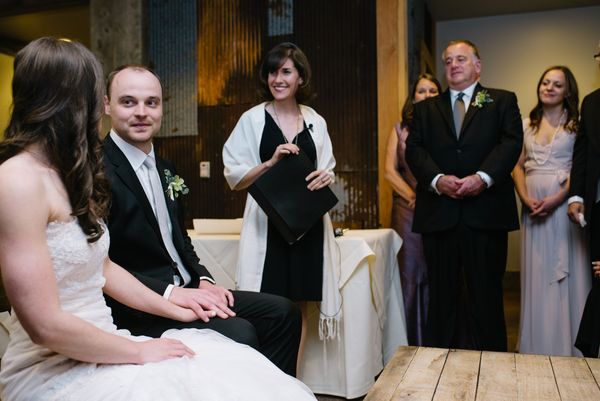 Jewish, Interfaith, & Spiritual Ceremonies
I enjoy tailoring sessions to each couple's interests: delving more deeply into the ritual elements of a Jewish wedding, pre-marital counseling, creation of a spiritual life for yourselves, something particular you'd like to explore more from a spiritual context, mindfulness, moral/ethical dilemmas...the universe is wide open!
I am delighted to work with interfaith couples. Interfaith weddings are a transformative integration of a couple's beliefs, ideals and cultures. I will help you find ways to include your entire family in the ceremony as well as incorporate personal prayers and rituals.
Creating spiritual, non-religious ceremonies is another passion of mine. Let's speak more about blessing the sanctity of your wedding drawing on the wisdom of nature, Oneness between humans, and connecting with the Force of Love surrounding us.
As a rabbi passionate about creative ritual, we also explore pre-wedding rituals in nature to mark this special time in your lives.
"She's the best - look no further! Rabbi Marshall was really invested in developing an actual relationship with us. Guests continue to tell us how much they loved the ceremony & Rabbi Marshall specifically!
Rabbi M., you were amazing, & Melinda and I couldn't think of anyone better to help us start this chapter of our lives together. You rock!" ~Charlie & Melinda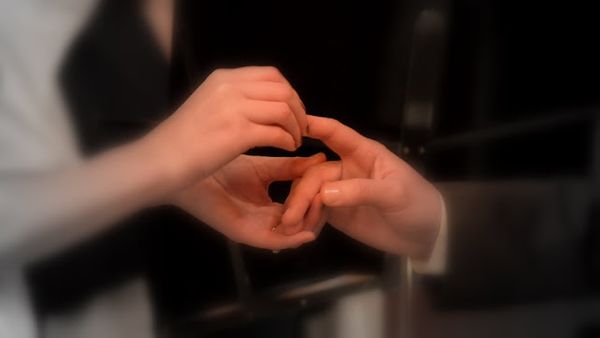 LGBTQ Ceremonies
I am also honored to officiate LGBTQ wedding ceremonies. The ceremony does not differ greatly from other weddings, with language changes as appropriate. I will help you create a ceremony that reflects your values as a couple. I am also a proud member of the LGBTQ community.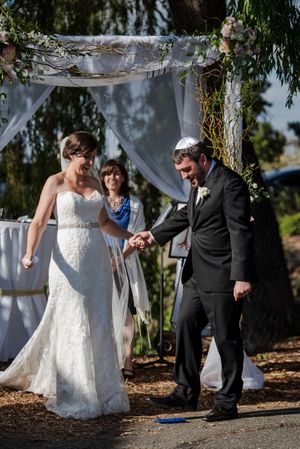 Ceremony Location & Destination Weddings
I look forward to sanctifying and sharing the joy of your sacred occasion in any spot your heart desires! Through the use of Zoom, pre-marital sessions and wedding planning can be conducted from anywhere, and I am delighted to travel anywhere to personally conduct your wedding ceremony.
Already Have an Officiant & Need Help Creating Your Ceremony?
You can't wait for your loved one to officiate at your wedding AND resources to guide you as a couple and your officiant sound fantastic!
I offer 3 levels of support:
✶Petit: 1 meeting or video call with each couple and their officiant sharing the basic elements of a Jewish wedding ceremony and answering any questions.
✶Grande: 3 meetings or video calls.
~Getting to know you as a couple, your connection with your officiant, and your vision for your ceremony.
~Guidance with all the details of your ceremony. Co-creating a service that feels, personal, JOYOUS, with just the right amount of tradition and creativity.
~A run-through of your ceremony with your officiant. Ensuring everyone feels confident about language & choreography. Let's affirm a clear and no-worry approach for your big day!
✶Venti: All the goodies of a Grande + pre-marital support to rock the socks off marriage. I customize content and number of sessions for each couple.
Conversations explore everything from how each of your similarities and differences strengthen your union, to financial decision making, crafting the wording for your ketubah (wedding contract), personal growth dreams, navigating conflict, commitment to social justice, and how you envision celebrating holidays together.
***
I also happily co-officiate with your loves one as well as progressive clergy!
***
"Our wedding ceremony was perfect and we're so grateful for you, and your open, collaborative spirit that helped us generate much of the content together on our video call! We couldn't have done it with such grace, intention, and woven tradition, without you." -Amy and David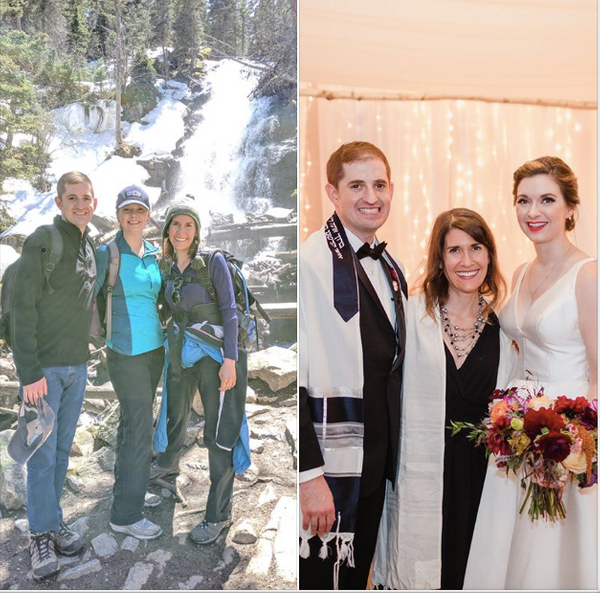 Celebrating the JOURNEY!
I relish honoring each couple's entire wedding journey. We share a creative nature-based ritual to create intentionality as part of this exciting new chapter in their lives!
This stirring ritual with Elaine and Steven was in Rocky Mountain National Park. Check out both pictures, we clean up pretty well. 😊
Wedding Resources & Packages...
Please click below for details on my wedding packages!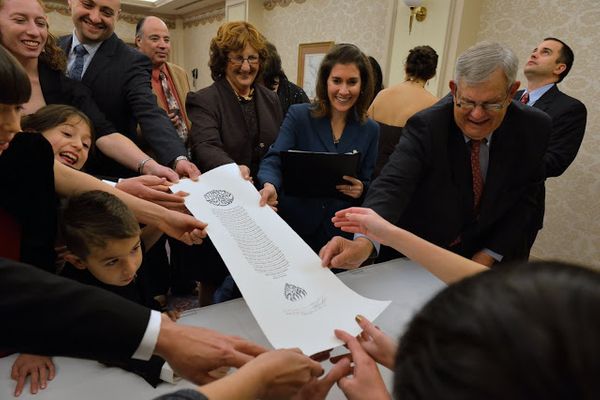 Vow Renewals
Vow renewals are another way for couples to sanctify a significant anniversary. Couples may choose to stand under the chuppah again together, surrounded by friends and family, and offer blessings of love and affirmation to celebrate all their marriage has brought them and all it will continue to bring.
Love from a couple...
We cannot rave enough about Rabbi Jessica Marshall's skill and finesse as a wedding officiant. In fact, even now two months later, whenever we see guests from our wedding, each person remarks about the beauty and sincerity of the ceremony. We know from working with Jessica over the course of a half year leading up to the wedding why the ceremony was so perfect. Jessica has deep knowledge of how weddings can go and was able to be flexible and responsive to our needs. She listened closely, made suggestions, and then ultimately crafted a creative and personalized ceremony just for us. She took the time to understand what was important to us and who we are as a couple, sharing options and advice, but ultimately listening to what we wanted. She was fully willing to go with us on our journey, even when that meant changing our minds along the way a dozen times or so.
We always looked forward to talking with Jessica across the months because she had a way of grounding us again. She suggested we create a list of "wedding values" and revisit them when things felt overwhelming. We found this very helpful. She also always got us laughing and reflecting on what really matters. On one occasion, she asked us to shut our eyes, hold hands, and just talk about the feeling we wanted to have the day of the wedding.
Jessica was always patient, positive, and empathic along the journey of planning and developing our big day. So, it is no surprise that our guests remember the wedding ceremony as vividly as we do. Jessica was a calming presence the day of the wedding and throughout the ceremony. She brings her whole self to her work – her art really – and her authenticity during the ceremony helped us feel relaxed and authentic, too. She was able to manage some last-minute logistics with grace and humor – and then transition easily into leading a heart-felt ceremony. We remember the joy of standing there and celebrating our love with her – and the delight we felt in hearing her kind, wise, and witty words of wisdom throughout. ~Susan and Joanna
Click HERE for more Testimonials!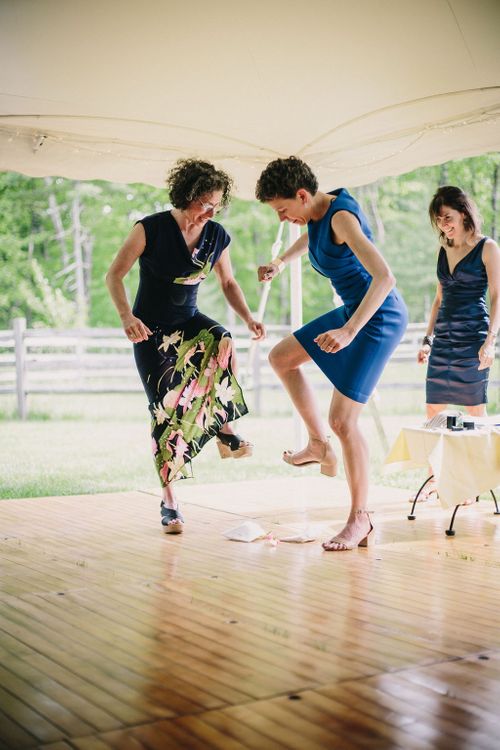 Wedding Intake Form
Please fill out the form below before we have our first pre-marital meeting. It will take about 15 minutes. Looking forward to learning more about each other!