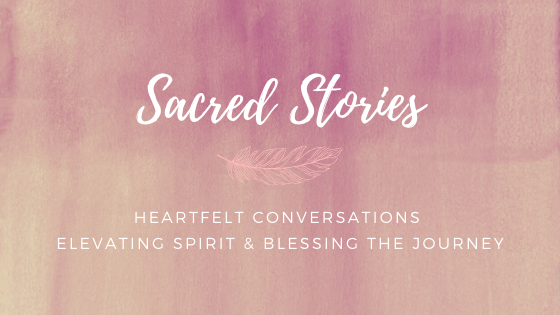 In other's stories we hear our own...
Join us as we dive into these spiritual questions...
What is a sacred story that has shaped your life?
How is your sacred story evolving now?
How is Spirit/Mystery currently calling to you?
Sacred Stories with LaEisha Howard: Sacred Forgiveness
Join us for this expansive conversation with LaEisha Howard as she shares her Sacred Story about the power of forgiveness and gratitude, practices we can use to help us stay present as we navigate past struggles. LaEisha teaches us how to bring these qualities into a daily prayer practice of blessing the sticky spots and elevating gratitude each day.
LaEisha also shares with us a story from her memoir about her mother, who used to remind her: treat everyone with love, as you do not always know what is going on beneath their surface. This beautiful reminder is such a sacred way to honor one of my favorite Ram Dass quotes, "Treat everyone like God in drag."
LaEisha's story invites us to consider:
~ How can I claim a prayer practice for myself?
~ How might I infuse resilience and intention into my prayer practice?
~ How do we best process and grow: via writing, therapy, prayer, nature time, or meditation.
~ What might be one next step in allowing ourselves to let go of any grudges we hold?
About LaEisha:
Author, writer, speaker and Human Resources consultant. LaEisha has always been passionate about empowering those around her and challenges those to shape not only how the world sees them, but how they see themselves in the world. LaEisha has been categorized by her peers and clients as an inspirational and thought-provoking visionary. LaEisha is the Co-Founder of Threads of Change, a non-profit organization committed to improving the lives of underprivileged youth.
Connect with LaEisha:
IG: @laeishahoward
Sacred Stories with Kiné Corder: Living Like There's No Tonight
Join us as Kiné Corder shares a powerful story of generosity, connection, and living with intention.
Kiné's philosophy became "live like there's no tonight" after she suddenly lost two of her close friends. For her, living like there's no tonight means choosing to do what's most important to your heart today. We know too well that tomorrow is not always guaranteed.
Kiné also explains the process of hypnotherapy and how it allows individuals to heal from trauma by "changing their song."
Kiné's story invites us to consider:
~ What are some important steps I want to take "tonight"?
~ How can I step out of my mind and listen to what my body and soul are telling me?
~ To whom in my life can I offer generosity?
~ How can breaking my goals into smaller, more manageable steps help me prioritize my values?
About Kiné:
Kiné Corder is a National Certified Counselor, international speaker, and the world's #1 clinical hypnotherapist specializing in stress, anger, money, and meaning. She is also the CEO of Presidential Lifestyle; a wellness company focused on wealth in all its forms.
With a background in film and television production, financial services, and mental health counseling, Kiné delivers a unique set of skills in her private practice, speaking engagements, and public appearances. She creates life transforming experiences in both a private and/or group setting.
You can also catch Kiné on her Money and Meaning podcast where she chronicles the search for meaning over money to Make America Meaningful Again.
Connect with Kiné:
IG: @kinecorder
Sacred Stories with Alea Lovely: Receiving Higher Wisdom
Join us as Aléa Lovely tells a sacred story about learning to trust the Universe to guide her towards action and healing. She shares her journey from a life of manifestation to one of surrendering to her feminine energy and Spirit.
We explore the difference between anxiety and intuition, and how the two can sometimes be mislabeled. Aléa encourages each of us to trust our intuition, as it often leads us in the right direction.
Aléa's story invites us to consider:
~ Who are we without our titles, relationships, and work?
~ How can we allow Spirit to guide us, instead of always seeking control?
~ What is the difference between our anxiety and our intuition?
About Aléa:
Aléa Lovely is the host on the up-and-coming podcast Spiritual Shit. She is also an empath medium who coaches people about their energy, boundaries and blocks to help them grow in ways that seemed impossible before.
Connect with Aléa:
https://thelovelyalea.com/podcast
IG: @TheLovelyAlea
Sacred Stories with Keira Poulsen: Crossing the Sea
Join us for a powerful spiritual discourse as Keira shares her sacred story of waiting for the seas to part despite eerie silence from the heavens. We discuss what it means to make a leap of faith when listening to Divine messages. We also consider the power of directly saying to Spirit, "Show me!"
Keira explains how to balance living a spiritual life with taking intentional action as an entrepreneur. She believes that if we trust help from spiritual realms, we are never alone in our pursuits.
She shares one of her favorite songs, Oceans Where My Feet May Fail, by Hillsong UNITED
Keira's story invites us to consider:
~ How do we receive holy messages?
~ How do we navigate not knowing what to do or the heavens going silent?
~ Practicing trust and forgiveness when feeling unheard or unseen by intentionally creating our own sacred spaces.
About Keira:
Keira Poulsen is a mother to 5 amazing children. She is also an intuitive, energetic healer and creator. Keira is a spiritual entrepreneurship coach for Lightworkers, healers, change-makers and leaders. She helps women create their soul work and successful businesses derived from their gifts and purpose through The Awaken Mastermind and the Awaken the Master's Program. Keira believes that now is the time that leaders are awakened and share their light with the world.
You can listen weekly to Keira's messages of hope and guidance through The Awaken Podcast or on her Instagram account.
Keira is also the creator of Freedom House Publishing Co. where she helps authors liberate their voices through the written word. Keira believes that we all have a deep purpose that the world needs. And when we connect up to The Divine and remember our own inner Divinity, we can create massive change in this world.
Connect with Keira:
IG: @KeiraPoulsen
Sacred Stories with Aubry Hoffman: The Whispers of Our Heart
Join us as the Queen of Intuition tells a powerful story about how her atypical education has shaped the course of her life. We discuss the power that lives in each of us to discover our own unique ways of working and healing. Aubry's message invites us to accept that we each have a path that may look nothing like that of other people in our lives.
Aubry's story encourages us to consider:
~ What if what you want feels like something that has never been done before?
~ How can we let go and trust the pull of our heart?
~ Where in our lives can we practice even more openness?
~ How do we heal, work, and love in our own unique ways?
About Aubry:
Aubry Hoffman is an intuitive guide, energy healer and inspirational speaker. She inspires thousands of people all over the world with her weekly podcast; The Queen of Intuition. Aubry lives in Boulder, CO with her son.
Special offering from Aubry: For 20% off a reading with her click HERE and use code STARMOTHER at check out.
Connect with Aubry:
IG: @TheQueenOfIntuition
Sacred Stories with Rabbi Heather Miller: Keeping It Sacred
Join us for an expansive conversation with Rabbi Heather Miller exploring inclusive Jewish community and claiming Judaism for ourselves. We discuss the power of having our own identities affirmed by those we love and honoring others through spiritual depth, openness, and joy! Rabbi Miller's story reveals the humanness of trying to find our place. She reminds us that we share many more similarities than differences.
Rabbi Heather Miller invites us to consider:
~ How can we create spaces within the Jewish community that are welcoming to all people?
~ What are ways we can affirm those who may have different backgrounds than our own?
~ How can we strive to be creators of Judaism instead of consumers?
~ What do our own spiritual identities look like and feel like?
About Rabbi Heather Miller:
Rabbi Heather Miller is the founding rabbi of Keeping It Sacred, a center of serious sacred text study, joyful openness, empowering learning, and purposeful activity.
She was named the 2018 Giant of Justice by CLUE-LA (Clergy and Laity United for Economic Justice), appointed Commissioner on the first-ever Los Angeles County Sheriff's Civilian Oversight Commission in 2016, selected as a Jewish Federation Edah Community Leadership Fellow in 2016, and identified as a Leader to Watch by the Liberty Hill Foundation in 2013.
In 2019, Rabbi Miller released her first book, ReSOULutions: A Practical Guide for Self-Repair. Her actions and ideas have been featured in more than 15 publications including the Los Angeles Times, the Jewish Journal, Sh'ma Journal, The Orange County Register, and ReformJudaism.org.
Rabbi Miller has served as spiritual leader of several congregations across the United States including the world's first LGBT-founded Jewish synagogue, and was born and raised in an interfaith family in Los Angeles, CA.
Connect with Rabbi Heather Miller:
IG & FB: @hearabbi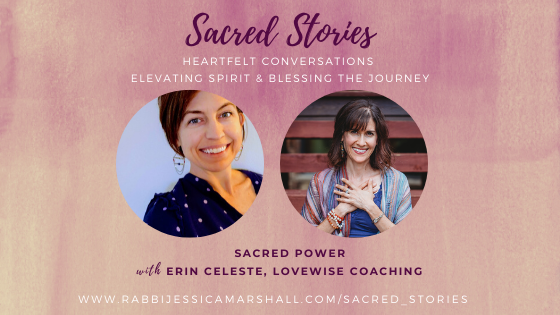 Erin Celeste: Sacred Power
Join us for this deeply powerful conversation as Erin Celeste shares a story about finding her own voice and how that emerges in her relationships. We explore the universal human question, "Can I trust to be loved as my true self?" Can I show up as I truly am and be deeply loved for that? Erin clarifies external vs. internal power and offers tools for how we can shift old stories about ourselves. She also reveals a compelling way to diffuse conflict.
Erin's story invites us to consider:
~How do we hold someone else in sacred space when they are feeling triggered and vulnerable?
~The embodiment practice of asking the other person, "What do you feel in your body right now?"
~If you are feeling stuck in a relationship, discerning whether to keep working on your relationship or accept that it is not a good fit.
~How do we start to dismantle old structures that keep us in suffering?
About Erin:
Erin Celeste (she/hers) is a healer-turned-relationship coach, thanks to her relentless pursuit of the question "Why are relationships are the source of both our greatest joy and our greatest pain?"
She is a certified Erotic Blueprints coach, and works with single or partnered women to help guide them into deeper love through the power of pleasure so they can experience turn on, aliveness and radiance both in and out of the bedroom.
When not geeking out about sex and relationships, she can be found perfecting her French accent (ideally while traveling), reading mystery novels, dancing like no one is watching, logging hours on her meditation cushion, and engaging as an ally to end systemic oppression.
Connect with Erin:
IG: @myerinvalentine
FB: @ErinCeleste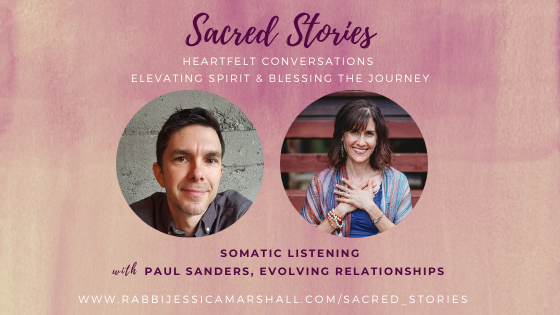 Paul Sanders: Somatic Listening
Paul dives into tangible skills that help partners to understand each other's differences.
We explore the practices of sitting with discomfort, listening with empathy, heart coherence meditation, and intentionally raising the frequency of every cell in our body. He shares how the practice of somatic listening--hearing another without needing to respond has changed his relationship.
Paul's story invites us to consider:
~How might I bring playfulness to my meditation practice?
~Where is an invitation to practice somatic listening in our own life?
~Is there something or someone in our lives that might flow more easily if we step back to listen versus grip tightly and force it?
About Paul:
Paul is a life adventurer. He has always been an entrepreneur work-wise. Beyond work, what is most important to Paul are spiritual and relationship growth, anything to do with music, and exploring the world.
Connect with Paul:
FB & IG: @heywherespaul
Sacred Questions with Alison Gold
Our conversation explores Alison's core life questions which emerged & deepened during her time on sabbatical.
1. How do I want to contribute to the world?
2. What do I want the rhythm of my life to be?
3. What/Where do I consider home?
We also speak about a magical place called the Findhorn Foundation in Scotland I hope to be able to visit there one day!
Alison's story invites us to consider:
~Where do life's important questions get raised for you?
~How would you answer her core questions? What others would you add?
~What for you is "love in action?"
About Alison:
Alison Gold is passionate about sharing her unique combination of skills and experiences as an anthropologist, cross-sector change-maker, culture-builder, emergent learner and strategist, and facilitator with organizations and collaborations seeking to create a more positive and equitable world. She founded her firm, Optimistic Anthropology in 2017, to help teams and communities working to solve complex social, economic, and environmental problems be able to answer two critical questions:
Why are things the way they are?

What will it take to make them different?
Alison enjoys reading, cooking, and podcasts; swimming, hiking and camping; checking out street art, art exhibits and concerts; and cheering for the Chicago White Sox. She calls the Petworth neighborhood of Washington, DC home, and because of her love of and ability to work from anywhere, considers the world her community.
Connect with Alison:
http://www.OptimisticAnthro.com
Instagram: @AKGold11
Twitter: @AKGold11
Sacred Surrender with Robin Wald
Our conversation explores Robin's growth, healing, and transformation over the last five years since ending a 24 year marriage. We dive into the lessons of growing into our own power, surrender, trust, intuition, and inner listening.
Robin's story invites us to consider:
~During times of uncertainty, how can we connect to the Divine as an indwelling place, the Shechina, in Hebrew?
~How can we deepen our own inward listening, without judgment?
~Using tarot as an intuition validator.
~The dance between inner knowing versus listening to a force larger than us. Duality consciousness versus unity consciousness.
About Robin:
Robin Wald is a professional astrologer, life coach, yoga and meditation teacher, and Jewish educator. With cosmic wisdom and compassionate presence, Robin supports her clients to gain clarity and insight into themselves, their life purpose, and their own resourcefulness to manifest their best selves in wholeness and love.
Connect with Robin:
IG: @robinwaldcosmicwisdom
FB: RobinWald or @robinwaldcosmicwisdom
Excited to create a sacred story together?