Resources & Wedding Packages
All the juicy details as we create your sacred day!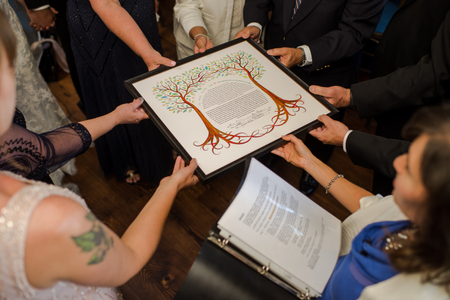 Our Process Together...
As the three of us stand under the chuppah together, it is most important that I fully capture your essence, values, and playfulness as a couple.
I seek to provide an arms-wide-open entree to Judaism and spirituality. Through our time together, couples grow more connected to each other, more connected to their own sense of Oneness, the natural world, or the Divine Mystery, and gain tools for creating rituals and traditions together.
We deepen the process of getting to know each other over multiple sessions. We meet in my cozy living room (with cookies!) or over video chat platforms. Celebrating each unique couple, in a cozy, intimate, relaxed environment is elevated through my 7-session premium package.
Pre-Session
Either over phone or in person, you share a bit about your journey, what a Jewish wedding means to you, your vision for your wedding, and a little about your spiritual backgrounds. I share my approach to working with couples, review how our time is structured, and answer any questions the two of you have.
Session One
Together, we'll talk about your family and religious backgrounds, how and where Judaism plays a role in your home life, and what a Jewish wedding means to you. Understanding each of your backgrounds is paramount as I tailor my approach to working with each couple.
Before Session One:
Start thinking about your ketubah, or Jewish wedding contract. Many couples find ketubot on etsy.com, ketubah.com, and ketubahketubah.com...have fun finding one that captures you as a couple!
Session Two
We'll delve into each of your personalities, and how your differences and similarities strengthen and support each other. Then we'll play the Newlywed Game!
Before Session Two:
Each person, please take the 5 Love Languages Quiz
Each person please take the Enneagram assessment
Session Three
We'll go over all the details of your ceremony and personalize it fully. We can discuss navigating familial issues. :) I'll offer options for music, special readings, and ways to include your Jewish and non-Jewish family and loved ones.
Before Session Three:
Please read The Jewish Wedding Now and Celebrating Interfaith Marriages.
Session Four
Depending on each couple, we'll explore spirituality, finances, sexuality, rituals, connection to Shabbat and a day of rest, and your continued growth and delight together.
Options abound with creative art projects to capture your values and goals. I tailor this session depending on what each couple seeks to explore.
Before Session Four:
Please peruse these exercises. Choose the questions that speak to you as a couple and jot down notes to jog your memory for our discussion. We'll focus more on Spirituality together. We can discuss Finances and Sexuality if a couple chooses.
Finances: Part 8 of 1001 Questions to Ask Before Your Get Married
Sexuality: Part 9 of 1001 Questions to Ask Before Your Get Married
Spirituality: Chap 21 of 1001 Questions to Ask Before Your Get Married
Session Five
We create a ritual together to sanctify all that brought you to your wedding, your individual passions, this present moment as a couple, and your future intentions and values. This is a beautiful way to share sacred time together before the intensity of the wedding day.
Session Six
We share a stirring, joyous ritual, in a place you choose, often in nature.
If couples wish to capture this intimate ritual with stunning photographic keepsakes, I partner with Kelly Eileen I Essence + Artistry
Session Seven
We'll do a run-through of your ceremony and finalize any outstanding details. Then I'll ask some fun mushy questions (mushy is how I roll) that I'll incorporate during the ceremony as I speak about the two of you.
After your wedding ceremony, each couple receives on-going rabbinic and pastoral support, special access to my other offerings (retreats, personalized rituals, baby namings), and opportunities to connect with my community of other newlyweds.