Clip from Kevin and Carly's Wedding
A Destination Wedding Ceremony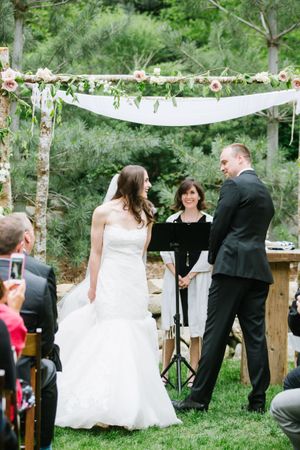 "When we were shopping for a rabbi to officiate at our wedding, Judaism Your Way put us in touch with Rabbi Marshall, and we were so lucky for this fortuitous connection. Immediately from our first meeting, we could tell that Rabbi Marshall understood our spirituality, and that she was the right officiant to work with us to create a personalized and meaningful wedding ceremony.
We were fortunate to have our brother/brother-in law as the lead officiant but having a strong Jewish element both in the run-up to the ceremony as well as the ceremony itself was very important to us. During one of our prep meetings, Rabbi Marshall suggested a unique opportunity to do a Mikvah ritual in the mountains a couple weeks before the wedding. This ritual turned out to be AMAZING. We met Rabbi Marshall at Gore Creek outside of Vail and Rabbi Marshall led us in a simple ceremony to connect with our Judaism and with each other. It was not only beautiful, but truly meaningful, and a wonderful preface to our wedding. Rabbi Marshall had a unique way of bringing her creativity to our work together in a way that made us feel understood and provided a spiritual and romantic experience that we never would have thought to pursue.
Rabbi Marshall really listened to us when she asked us what Judaism meant to us, what we valued in each other, and what we wanted the wedding ceremony to be like. She helped us create a wedding ceremony that was personal and innovative in some parts, and traditional in others, just like we wanted. She was responsive, reliable, and just such a joy to speak with and work with. We fully intend to stay in touch with Rabbi Marshall and we can't wait to see what she does next in Judaism Your Way and in her work on Sacred Lifestyle Rituals."
~Dustin and Jen
"Our wedding weekend in Sundance, Utah was absolutely amazing and our families and friends are still talking about the beautiful ceremony and how much they truly enjoyed Rabbi Marshall. We are grateful for everything she did to make our wedding magical!
We cannot even begin to express the happiness and joy that she brought to our wedding day or most importantly, our relationship.
From day one, she made us feel completely comfortable and helped guide us through the process of becoming husband and wife that went above and beyond just the details of one day. She helped us navigate the complexities of embracing new traditions while establishing what felt good to us and the blending of many families. We have, and will continue to, build upon the great foundation that she helped us lovingly set.
We thoroughly enjoyed all of our time with her, discovering new things about each other, about our relationship (present and future), about our beliefs, passions and dreams. It was refreshing to meet someone with a similar zest for life who reminded us to stay present and stay focused on what is most important. We looked forward to each meeting with her and always left reflective of the lessons and discussions explored.
We cannot thank her enough for providing us with all of these things, and then on top of it all, officiating the most beautiful and heartfelt ceremony. She really took the time to get to know each of us individually and as a couple and that was evident throughout the day and more than we could have hoped for. The day was absolutely magical and she was a huge part of that. We thank her for all of her support, guidance, advice, encouragement and dedication."
~Carly and Kevin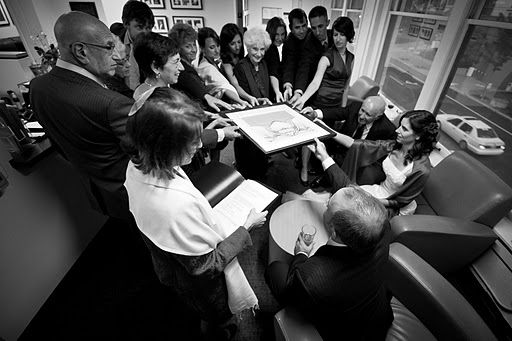 "We feel so fortunate and grateful that Rabbi Marshall officiated our wedding. The ceremony was beautiful and her words and voice elevated the day beyond our expectations. As an interfaith couple, we felt she went above and beyond to help us understand Jewish wedding customs and traditions, as well as integrate interfaith pieces into our ceremony to make it inclusive and welcoming.
In the months leading up to our wedding, Rabbi Marshall took the time to get to know us and our relationship. In these meetings we learned so much about ourselves, our family values, and Judaism. Rabbi Marshall beautifully incorporated these details into our ceremony which made our wedding feel wonderfully personal, spiritual, and full of love. It was a pleasure working with her, and we could not have been happier!"
~Ely & Kaytlyn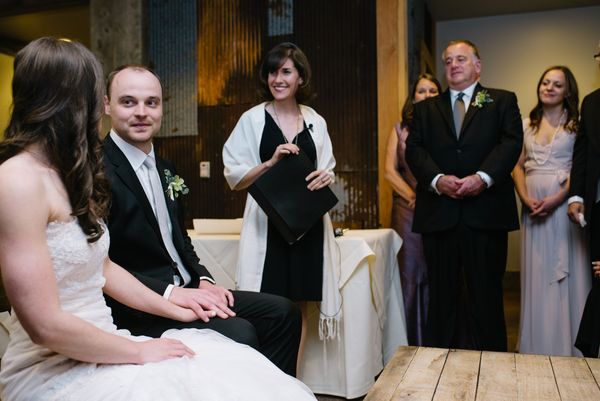 "We felt incredibly fortunate to have Rabbi Jessica Kessler Marshall involved in our wedding day. It was with joy that we attended our counseling sessions in the months beforehand, which helped us escape the pressures of wedding planning and spend the time we needed to reconnect with one another. The questions that Rabbi Marshall asked drew out the feelings that we have always had for one another, but may not always express in our daily lives. She did all of this in an environment that was loving and accepting of everything we shared.
"During the ceremony itself, Rabbi Marshall was outstanding. She was impeccably composed in front of 180 guests and maintained her poise despite a wide range of distractions (horses neighing, people crashing in late, the groom trying to drink the wine too early, etc.). Further, because of the time she spent getting to know us as a couple, she crafted a program that was perfectly suited to the spirit of the evening, combining reverence, love, and plenty of laughter. Rabbi Marshall is undoubtedly one of the reasons we will forever look back on our wedding as one of the happiest times in our lives."
— Shams Orr-Hruska & Pamela Schwendeman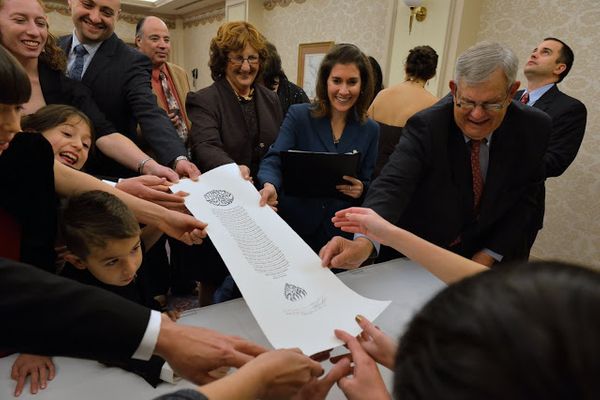 "We were very happy with our experience with Rabbi Marshall. My husband is Jewish (though not connected to a synagogue) and I am not. I wasn't sure what to expect and was not exactly the most willing to explore this option. But after meeting with her, I was totally put at ease.
I really appreciated her young, feminine energy. And we actually enjoyed the counseling sessions leading up to our wedding. They gave us a set time for a bit of reflection during a stressful period and confirmed that we were making the right choice It also gave her a chance to get to know us, which made her remarks more personalized.
I also was grateful that the ceremony and its components were not set in stone in her mind. We were able to pick and choose what we wanted to do and say and we actually ended up with a pretty traditional ceremony in the end (which was a bit surprising to the both of us)! She even let us pick how she said certain words and phrases, which I appreciated very much.
I think all in all, our ceremony was 30 minutes, but it didn't feel boring or drawn out. There are so many beautiful ceremonial things that happen and I'm glad we included them! We had many guests say they really loved the ceremony and we don't come from very religious backgrounds so that was cool to hear. I'd definitely recommend the ketubah signing – I'd say that was the highlight for me. Having your family around you and them passing it over to you and your husband is pretty special! "
~Leslie and Adam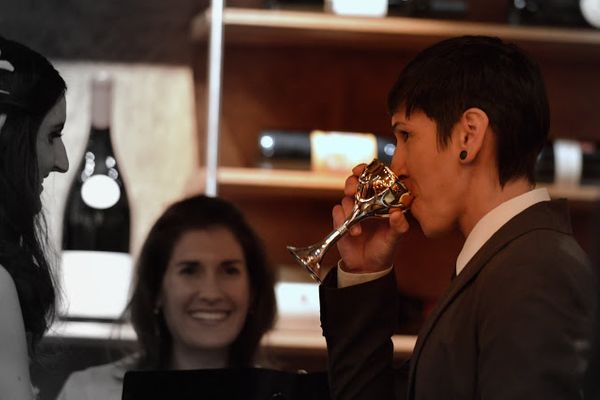 "Rabbi Marshall's ceremony was beautiful and very moving. It really meant a lot to us that she took the time to get to know us before the wedding, and the ceremony was better than we ever imagined. We are especially grateful that she made the trip up to Vancouver just for the wedding".
~Leah & Jen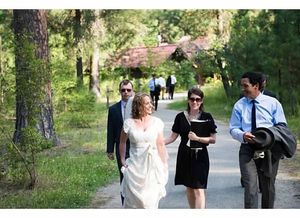 "Rabbi Marshall performed a most moving and beautiful ceremony for us. We appreciated the time she spent before the wedding getting to know us and educating us regarding Jewish laws and customs. We are extremely grateful that she could share with us the joy and happiness of this most special day. Her service was so very special and personal. Her beautiful smile and loving spirit transformed us to a bride and groom who felt the love and presence of a higher spiritual concern".
~Emily & Rob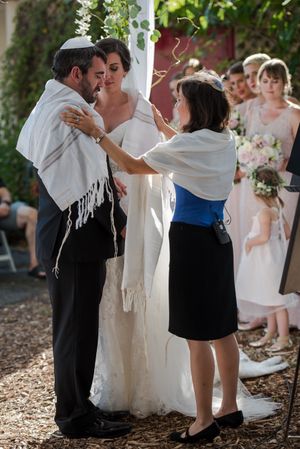 We could not be more grateful to have found Rabbi Jessica Marshall to officiate our wedding. Rabbi Marshall is so spiritually in tune, graceful, authentic and kind that the entire process of working with her from start to finish was a pleasure. As an interfaith couple, it was amazing to have Rabbi Marshall as a resource to teach about Jewish traditions and find a respectful balance between our different backgrounds. Our ceremony was our absolute favorite part about our wedding day; it was so personal and special for us, our families and our guests-this is a rarity to be able to achieve such a feat! We look forward to our continuing friendship with Rabbi Marshall and are so happy she could share our special day with us. It was unforgettable in so many wonderful ways.
-Lauren & Jason